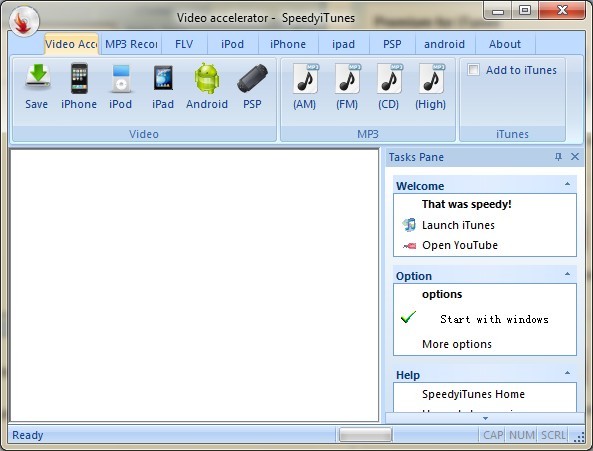 Get the Speed you want
Cut down more than half of the download time of Flash videos, movies, songs etc.
SpeedyiTunes works great for both slow and fast connections. It accelerates not only YouTube and lots of social streaming sites, but also normal file downloads.
Ultimate way to get tons of free MP3
Tune on the record button and browse the web as you usually do. SpeedyiTunes automatically record streaming MP3 while you listen. Supported sites: MySpace, Facebook, Hi5, Bebo, Playlist...
It's the easiest way to get tons of free and legal music. The limitation is just your hard disk.
YouTube/Flv downloader
1-Click to download and convert YouTube/Flv video to iPod/iPhone/PSP/MP3 and add it automatically to your iTunes library.
Easy to use
Just Download, Install, Run and Forget. Your downloads will be accelerated automatically. Nothing more!
1-Click Video convertion, MP3 recording and iTunes import.
Nice
100% free of viruses, spyware, adware �any kind of malware.
SpeedyiTunes is the easiest solution to get entertainment media free, fast & legal.